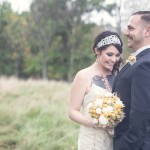 Liz Lane and I met on a creative project about 3 years ago, and we have since become good friends and creative partners.  I was honored and excited when she asked me to be the one to capture her and Andrew's day.  Although the rain settled in and never left, Liz's happiness greatly overshadowed that.  The laughter throughout the day was almost non-stop.  The joy of Liz, Andrew, family and friends at this wedding was unshakable.  Thank you to everybody that day that made it a memorable day of laughs and photographs!  Special thanks to Jim Tincher for 2nd shooting for me and assisting me throughout the day!
Personal message from Liz –
"Thank you to all of our family and friends for making our day so special.  It was absolutely perfect, and we will cherish the memories for a lifetime.  We hope you had just as much fun as we did!!!"
---
This blog post is the conclusion and the counterbalance to my earlier post, Pretty in Penguin – Pt. 1.  I had the opportunity to work with a great team in Cincinnati.  I reached out to Angelo Axel Culvert of Pretty Penguin Studios in order to get some ideas rolling on how this shoot would look and feel.  I wanted the day to have two distinct sets and two entirely different looks.  I was working with two models that fit the bill for that (Shannon Markesbery and Taylor DiazMercado).  Part 1 of the day would be a minimal styling, natural look, and Part 2 would be an over-the-top glam look.  I wanted to shoot the 2nd part in Angelo's studio and make use of the space, working with clothes racks, windows, etc.  We wanted it to have a sense of controlled excess.  The confined space worked great.  It was just a matter of making sense of the chaos.
I had a great team with me on this shoot to make it happen…. Models – Taylor DiazMercado and Shannon Markesbery, Hair and makeup – Angelo Axel Culvert, Assistants – Natalie Darpel, Johnny Ritter and Kevin Kilpatrick
The image of Shannon Markesbery and I was taken by Angelo Axel Culvert.
---
I've made an effort to step outside of my geography of Louisville, KY lately in order to collaborate with creative minds and models in surrounding cities.  A couple of weeks ago, I had the opportunity to work with a stellar team in Cincinnati.  I partnered with Pretty Penguin Studios for hair, makeup and styling.  The day was broken into two locations and sets.  I wanted these sets to be on completely opposite ends of the spectrum.  The first set would be a totally natural look using natural light, minimal makeup and very basic styling.  I was lucky enough to have Kevin Kilpatrick let me use his brand new studio in Covington for the first time.  I loved the rustic look of the floor and walls, which added a lot of texture and character to the images.
I teamed up with Natalie Darpel of Pretty Penguin Studios for the hair and makeup for this first set.  The models were Shannon Markesbery and Taylor DiazMercado.  They had really diverse looks and expressions, which made it a fun-filled, creative shoot.  I also had assistance from Kevin Kilpatrick.
As far as technique, I wanted to use the incredible ambient light in Kevin's studio.  I shot with wide apertures on my 50mm lens.  I used a large reflector on some sets for fill light.
Stay tuned for the 2nd part of this series, which was shot in Angelo's Pretty Penguin Studios boutique.
---