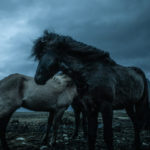 I rarely use the term "epic" to describe something anymore. Iceland, however, is going to be an exception. I had seen the other-wordly imagery coming from photographers that had visited Iceland, so I went there with high expectations. Those expectations were surpassed. I spent 8 days traveling along the the Southern coast of Iceland in an SUV. I chose to go in the late Spring time (mid-May). I found this to be beneficial from a photography and exploring standpoint that I had 20 hours of daylight to work with every day. And even during the night, there was still available light that could be used for long-exposure captures. I would often literally wear myself out during the day taking pictures, get to my AirBnb around 11, only to go back out and start taking pictures at midnight. Beware… Iceland might have the same effect on you! The pictures and video that you see here are how I saw and experienced the land of fire and ice.
Feel free to reach out to me through my website contact page if you have any questions about traveling to Iceland!
Facts and traveler tips for photographers:
1 day in Reykjavik is all you need. Get out and see the rest of Iceland.
Money – When you're traveling around Iceland, the best bet is to have a credit card, debit card and cash. Gas stations are sometimes far between. Sometimes there will not be an attendant at the gas station, and the pumps will only accept debit cards. This is one of the most important tips in this list. Have your debit card with you!
Rent an SUV. There are going to be times when you'll want to spend more time in places than what you would think. Having your own means of travel is the most ideal.
Gas averaged the equivalent of $7.50 USD/gallon. It's Iceland. It is what it is… and it's still worth it.
There are great deals on both hotels.com and AirBnb. Sometimes they are the same. There are some that have breakfast included, and that can help cut down on your daily expenses. I found rates to be very reasonable. I could find great deals between the $80-$140 range. In comparison to other expenses, this was reasonable.
Food costs are going to run high. Food in Iceland wasn't the most memorable part of the trip either… sorry, Iceland! A fish stew (one of their nationally known dishes) will run about $25 USD. A burger and a beer will be about $30. Prices in convenience stores and gas stations were more reasonable. If you're somewhat strategic about it, you can manage the costs probably better than I did.
You are going to want to bring a tripod for sure.
Rain gear for your camera will come in handy as well. Getting near the waterfalls will prove challenging in terms of keeping the water droplets off your lens.
A neutral density filter will be useful for allowing longer exposure times.
Drone photography – if you're looking to get into that area of photography, then a trip to Iceland can be the perfect opportunity. The vantage points and things that you can capture with a drone are amazing.
---